ChartCat - Java Chart Library
Product Overview
ChartCat is a professional object oriented chart library for java providing a maximum of flexibility, functionaluity and reusability. These are the main highlights:
This Java Chart Library is entirely implemented in the Java programming language, which means that ChartCat is available on all platforms where Java is available (and this is not only on Solaris and Windows platforms).
The library contains a large collection of predefined parts like graphs, scales, legends and grids that can be used to build project specific charts.

The 3D implementation is an integral part of this library and supports position and brightness of the light source: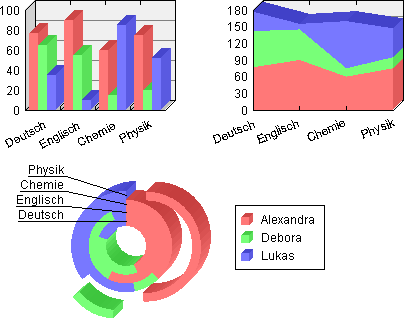 Of course, all charts are also available in a slim 2D look (see the tutorial for examples). In fact, the implementation of the perspective look is decoupled from the chart. So, feel free to implement your own look and beautify all charts with it!

This Java chart library integrates seamlessly into the "Java Report Printing Library" (ReportCat). The combination of ChartCat and ReportCat is the perfect print solution for sophisticated customers. The following is a screen shot of the print preview:
No overlapping lables: The "Tag" concept allows you to label the charts in a variety of occurrences and different strategies:
Charts generated with ChartCat can easily be exported to any output channel. Adapters are used to display the charts directly on the screen, or to print the charts or to create images (e.g. GIF) for the web:
There are hundreds of properties that can be used to configure the look of the chart: fonts, colors, strokes, gradients, textures, scales ...
The pluggable scale model lets you define logarithmic scales (or any other function) that work together with all kinds of charts.
The architecture of ChartCat gives you the opportunity to implement your own chats. Just supplement or replace building blocks at a very high level of abstraction.
A detailed documentation including an illustrated Tutorial with many examples increases your efficiency.
The conde size of aproximately 100K allows to use this library as part of an Applet.
The full source code can also be licensed.
Protect your investigation by using a charting engine based on a reliable and future oriented architecture!
Links
---